The perfect material for creating terrazzo and marble effects in your designs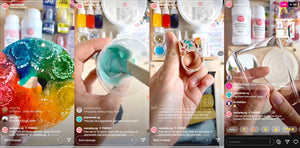 Resin Playbook
We show you how to play with resin!
Secrets tricks, how-tos, resin tips & more revealed!
YouTube Channel
Instagram
SIGN UP & LEARN FROM THE EXPERTS
With more than 10 years of experience in working and creating with resin, our founder, Elaine Tan, started Singapore's first school of resin to share her wealth of knowledge and joy in playing with resin. She and her team of dedicated teachers conduct fun and relaxing, yet in-depth resin art and jewellery workshops in our charming shophouse conveniently located in the city centre.
Now you can discover this therapeutic art form from the experts by signing up for a workshop. All materials are included for you to create beautiful works of resin art that you can bring home. Only non-toxic, high-quality resin art supplies, personally tried and tested by Elaine, are used in all our workshops.
CREATE SOMETHING BEAUTIFUL WITH OUR STAY HOME KITS!
Begin your resin art journey with us and get started with our stay home starter kits. Our bite-sized, all-in-one craft kit contains materials, tools and project instructions so you can easily create beautiful resin jewellery or homeware with no sweat!
Plus, all our crystal clear epoxy resins are solvent-free, low in odour, and do not contain toxic substances commonly found in other resins, such as nonyl-phenol that have long-term side effects - so you can craft with a peace of mind in the comfort of your home.
SHOP PREMIUM RESIN ART SUPPLIES
Don't know where to start? You have come to the right place. Resin Play is a one-stop shop that offers the best resin art supplies in Singapore for all your resin crafting needs. With our wide range of crystal-clear epoxy resins, pigments, silicone rubber, moulds and tools, you will surely find what you need for your resin project. All resin art supplies are tried and tested by our founder, so you can save time and money and get your hands only on what works best!

If you face challenges with your projects, fret not! Our dedicated team will be here for you to help you and give you the best advice.

Order resin art supplies online at Resin Play and enjoy complimentary delivery for purchases above $100 in Singapore. Alternatively, book an appointment with us to visit our fun and colourful store at Beach Road.
BE KIND TO EARTH WITH SmileStone™
Create sustainably with SmileStone™, an environmentally friendly acrylic resin that is solvent-free and VOC-free. With its opaque and stone-like appearance, SmileStone™ is the perfect eco-friendly material for creating terrazzo and marble effects in your designs.
Love love love this place! So many different activities to learn and I have fallen in love with resin art and alcohol inks! Elaine is patient and knowledgeable. Highly recommended!

Weng YN
Elaine is a great teacher and very generous in sharing about what to look out for in your creations. I thoroughly enjoy her workshop and have been considering to sign up for another workshop soon!

Joree C
Had a great time with the workshop! Worth flying all the way from Indonesia :)

Catherine S
★★★★★

First time having a session with resin play. The new studio is cosy, the staff were friendly. Elaine, is very clear and patient in her teaching. Gained new insights during the session which will be very valuable if I were to do the art back at home. Had a very comfortable and pleasant time with resin play despite attending the class alone. Will be back for more in the near future.

Loraein L
★★★★★

It was fun making the agate coasters. Resin is really a versatile art material and it makes the each piece unique. Thanks Elaine and team. Look forward to joining more sessions in future.

Rachel C
★★★★★

Loved my experience making Christmas ornaments at Resin Play, a bright, cheery and cute studio. Definitely coming back!

Emily T
★★★★★

Instructor Nicole was attentive and shared good knowledge on resin. Recommended!

Nur Basyirah MT
★★★★★

Cozy and conducive place to learn the art of Resin. Nicole is very patient. Can't wait to see resin pieces.

Joycelyn C
★★★★★

My experience has been an awesome one! Elaine was such a patient and passionate conductor! Gained lots of knowledge through this workshop and indeed I've learnt to appreciate the resin arts more after knowing the process of how one is being produced. Will definitely be back for more workshop! To add on, the staff there are also very professional with their customer service and was able to attend to my enquiries when purchasing supplies. Kudos, Resin Play! Till we meet again! 😆👍🏻

Belnie W